Our Capabilities
APX Enclosures is a Veteran Owned Small Business specializing in the design and manufacturing of UL-Listed/NEMA certified outdoor enclosures. 
APX enclosures are used nationwide in applications of telecom, traffic and signaling, AC/DC power equipment, and radio/telephone/cable, and provide high quality environmental protection for sensitive electronic equipment in harsh environments. All enclosures and panels manufactured by APX are UL-Listed to 508A and supplied with the UL/CUL Label.
We focus on high quality UL Listed/NEMA-Compliant outdoor aluminum and stainless steel enclosures and related components. Our non-corrosive enclosures are ideal for protecting sensitive equipment against elements such as rain, sleet, dust, dirt, and heat. We specialize in customizing enclosures to meet your needs and may include the integration of basic AC power and climate control features.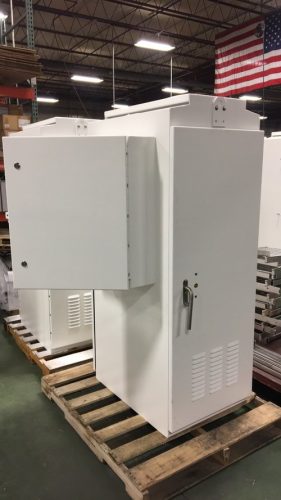 Facilities & Equipment
APX enclosures are manufactured in a 40,000 sq. ft. state-of-the-art facility. Our equipment includes a CNC Amada Punch Press and EM Presses, Amada FJ lasers, multiple 100-ton and 180-ton press brakes with programmable back gauging, and superior welding cells. We are also UL 508A certified and can provide electrical integration services as needed. APX Enclosures can provide polyester powder coating, including custom colors, as well.
We will be relocating enclosures operation into a new 90,000 sq. ft. facility in the near future. This larger footprint provides additional capacity to meet high demand volumes and larger enclosures.
In addition to our enclosure manufacturing facility, we also have a 15,000 sq. ft. Fox Rd. location devoted to our Precision Routings Division. This facility is equipped with two CNC router tables, one 4'x8' and one 4'x10' table. We are equipped with EnRoute software and the ability to accept PDF and DXF files. It provides us with the capability to manufacture many products, using multiple material compositions. Such as, UHMW, Plywood, PVC, Delrin/Acetal, Glastic, Phenolic Resin, and many more. Contact us today at (717)-498-0662 to see how we can help you on your next project!
APX Advantage
UL LISTED INDUSTRIAL PANEL SHOP
LOCKABLE SWITCH COMPARTMENT
Removable/clear Lexan window
Provides security from vandalism and allows municipalities to take meter readings without opening the main door of the enclosure
DOUBLE FLANGED DOOR OPENING
MARINE-GRADE ALUMINUM CONSTRUCTION
DOOR RESTRAINT BAR
Prevents door swing while working or during high winds
Automatically engages on larger enclosures
HEAVY DUTY CONTINUOUS HINGE
Prevents door sagging
Provides maximum security and corrosion resistance
3/4″ SOLID STAINLESS STEEL PAD-LOCKABLE DOOR HANDLE
Provides maximum strength and security
Resists corrosion
Provides NEMA 3R or 4X protection
ADJUSTABLE LIGHT/ALARM SWITCH BRACKET (REMOVABLE)
Provides mounting for internal light switch and alarm switch to be activated when the door is open